So, you go to Iherb.com and your eyes literally run wild. Dozens of tempting jars and packages – how to choose exactly what you need and will not disappoint you? Let's talk about the best iHerb products for baking today.
As in any category, there are a ton of baking products on the iHerb. Over the years, I have ordered and tried many of them, and now I want to share my Top List. I'm sure this will make the choice easier for many of you.
If you are a beginner, and have never ordered on Iherb, I assure you – there is nothing complicated about it. At the end of the article I will leave a short instruction on how to place an order, as well as a code for a nice discount.
Baking additives
So let's start with the most important category. Additives, which are often indispensable for our baked goods, and which we really want to make safe. They give our pies and muffins an airiness (baking powder and soda), and meringue rolls – elasticity (starch). And something else for the gluten-free baking fans.
Baking powder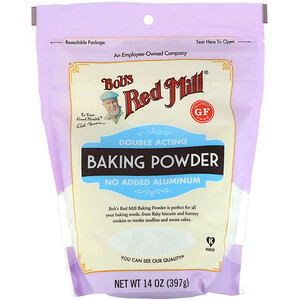 Frontier Natural Products, Baking Powder, 16 oz (453 g)
or Bob's Red Mill, Double Acting Baking Powder, Gluten Free, 14 oz (397 g)
Both are large packs of organic baking powder that does not contain aluminum. Enough for a very long time, more than a year calmly. Works well in pastry. Pay attention to the dosage, usually it is indicated on the packaging of the powder itself.
Baking soda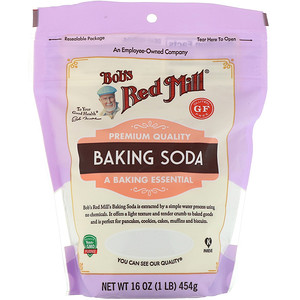 Frontier Natural Products, Baking Soda, 16 oz (453 g)
or Bob's Red Mill, Baking Soda, Gluten Free, 16 oz (454 g)
It is also an organic product in large packages that last for a year or more. Both manufacturers pay great attention to the production and quality of products, therefore all their products are highly trusted by iHerb buyers.
Corn starch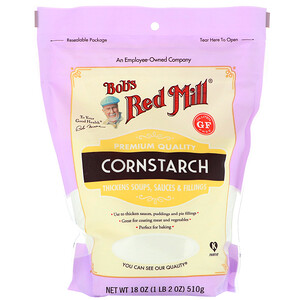 Bob's Red Mill, Cornstarch, Gluten Free, 18 oz (510 g)
Another great product from Bobs Red Mill, and also in a large, convenient package. They also have potato starch, but corn starch is better for baked goods and sauces, as it has no off-flavor. Add starch according to the recipe where it is needed, and also cook sauces with it (custard, lemon curd, bechamel or curry , eg).
Xanthan Gum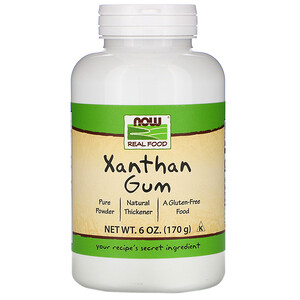 Now Foods, Real Food, Xanthan Gum, 6 oz (170 g)
Gum is a naturally occurring substance that has the ability to thicken. In gluten-free baked goods, the gum mimics gluten. In addition, sauces, jams, and so on can also be thickened with gum. The packaging is small, but it lasts for a very long time due to the tiny dosage – 0.1-1%.
Aromatic additives
Iherb is rich in quality organic extracts, herbs and spices. Many of them are deservedly in the top sellers. Their quality is so different from the "road dust" in bags that are sold in our supermarkets that it is simply impossible to compare them.
Vanilla extract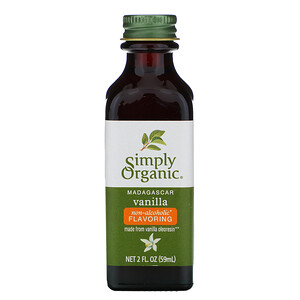 Simply Organic, Madagascar Vanilla, Non-Alcoholic Flavoring, Farm Grown, 2 fl oz (59 ml)
An organic rich vanilla extract that contains almost no alcohol (less than 0.5%). Unlike store-bought "vanilla" sugar, the extract gives pastry a natural vanilla flavor without adding any extra sweetness.
Almond extract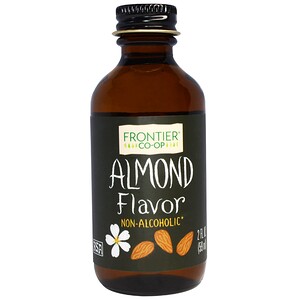 Frontier Natural Products, Almond Flavor, Non-Alcoholic, 2 fl oz (59 ml)
Almond extract gives pastry a light nutty aroma and flavor. Ideal with merengue, biscuits, sponge cakes, muffins, pastries with strawberries, raspberries, cherries, very good in Easter pastries and even as a natural flavoring for coffee. As well as vanilla extract, it contains almost no alcohol (less than 0.5%).
Orange extract
Simply Organic, Orange Flavor, 2 fl oz (59 ml)
Another perfect flavor for Christmas and Easter pastries. Orange extract can be substituted for the orange zest in the dough, added to cookies, marshmallows, pasta and of course coffee.
Cinnamon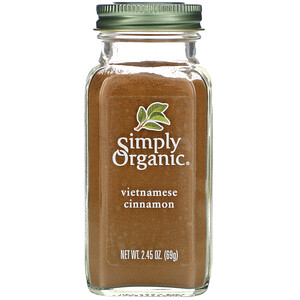 Simply Organic, Vietnamese Cinnamon, 2.45 oz (69 g)
I don't even know what words to choose to describe this cinnamon. I'll just say that if you haven't tasted real Vietnamese cinnamon, then you don't know the taste of cinnamon at all. It's like eating crab sticks all your life and then trying real crab meat.
Coffee, all spicy pastries with apples, pumpkin, nuts, cherries, carrot cake and banana loaf, gingerbread cookies – it all gets even more fantastic with good quality delicious cinnamon.
IHerb sugar substitutes
Iherb is famous for its huge selection of products for people who, for various reasons, follow a special diet. For those who do not consume white refined sugar, this site is definitely heaven. Here are just some of the natural sugar substitutes that I tried and appreciated myself.
Stevia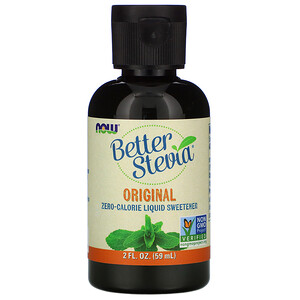 Now Foods, Better Stevia, Zero-Calorie Liquid Sweetener, Original, 2 fl oz (59 ml)
A convenient small jar (by the way, there is also a larger volume) with transparent syrup, which perfectly adds sweetness to drinks (tea, coffee, etc.) and desserts. This stevia extract is very concentrated, just 1 drop replaces about 0.5-1 tsp. regular sugar. Keep in mind that stevia adds a light floral flavor, not everyone likes it, but often it's a matter of habit.
Coconut sugar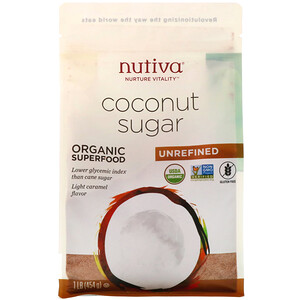 Nutiva, Organic Coconut Sugar, 1 lb (454 g)
Non-GMO organic unrefined coconut sugar, which is similar to brown sugar, has a light caramel flavor. Coconut sugar is less sweet than regular sugar, so you may need more to add.
Maple Syrup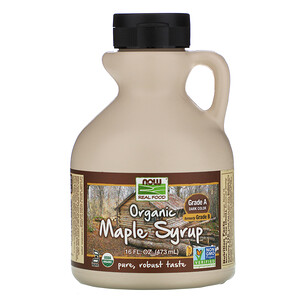 Now Foods, Real Food, Organic Maple Syrup, Grade A, Dark Color, 16 fl oz (473 ml)
Delicious flavored syrup, 100% organic and non-GMO. Suitable for baking, and as a topping for pancakes, oatmeal, granola, ice cream, etc. Maple syrup gives a deep caramel taste and aroma, ideal for spicy pastries. One of the bestsellers on Iherb.
Blue Agave Nectar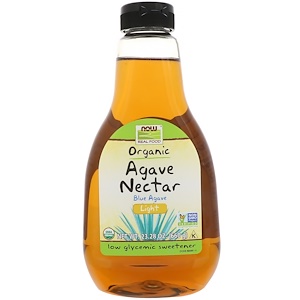 Now Foods, Real Food, Organic Blue Agave Nectar, Light, 23.28 oz (660 g)
More neutral and delicate in taste, agave nectar is also perfect as a topping for various breakfasts and desserts, and as a substitute for sugar or honey in pastries. Agave syrup tastes close to honey, but without a rich honey aroma. It is also an organic non-GMO product, considered to be a low glycemic index sweetener.
Well, as a separate item, I cannot fail to mention the undisputed leader, product number 1 on Iherb.
Coconut Oil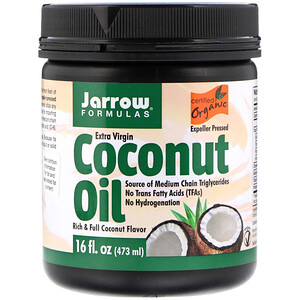 Jarrow Formulas, Organic Extra Virgin Coconut Oil, Expeller Pressed, 16 fl oz (473 g)
Legendary coconut oil, 100% organic and unrefined, with an unreal rich aroma and flavor of coconut. It can replace butter, used for frying on it, added to granola, oatmeal, ice cream and other desserts.
How to order on iherb.com?
There is nothing complicated in the process of ordering on Iherb, because the site can be viewed in many languages (including Russian), with your currency and payment by any card, 24/7 technical support in all languages. Parcels are always securely packed and arrive quickly.
Go to the iherb.com website.
Set the language, currency and region you need in the top line of website.
Create an account by the steps that the website will tell you.
Add products to the cart, as in any online store.
Place an order, also following the instructions on the site.
Enter promo code NZH461 in your Order Summary to get a 5% discount on your order.
If you have any questions, be sure to take a look at this page, there are very simple and accessible answers to many frequently asked questions.
Write in the comments which of these products you tried, and perhaps what other products would be worth adding to the list of the best products for baking from iHerb.
Recipes using iHerb Products for Baking