English Christmas fruit cake is a very exquisite traditional holiday pastry in England. It is based on classic butter cake dough, nothing complicated. But the richness of flavor given by candied fruits, nuts and rum combined with the texture of the fruit cake after a long aging is something unreal! Besides, the English Christmas fruit cake recipe is quite simple, just check it out.
I already have a video of this recipe on my YouTube channel (with English subtitles), so I invite you to watch it. I'd be grateful for a like, a comment, and a subscription, as it helps promote the content.
Many people think that all Christmas cakes, including the famous English fruit cake, are called stollen, but this is not the case. Traditionally, stollen is a German yeast pastry (by the way, I have a good classic stollen recipe on my blog). I will not delve into their background, let's just talk about the similarities and differences in cooking.
German stollen and English Christmas fruit cake – is there a difference?
The similarities:
✔️ both are infused for 2–3 weeks;
✔️ contain a lot of filling (dried fruits, candied fruits, nuts, marzipan – in combination with each other or separately).
That's all the similarities!
How an English Christmas fruit cake differs from a German stollen:
✔️ Dough. Stollen is prepared in different ways. According to the classics, it is a yeast dough, but it can also be cottage cheese or sourdough. English Christmas cake is a classic pound cake dough. The dough for a fruitcake is more liquid than that of a stollen, hence the difference in the formation of the future product.
✔️ Formation. Traditionally, the stollen is oval and elongated, while the fruitcake is often round, sometimes it has a shape of a brick.
✔️ Storage. After baking, the stollen is greased with melted butter, sprinkled with powdered sugar, wrapped in parchment, and keep it that way for 2–3 weeks. The English Christmas fruit cake, on the other hand, is poured with rum after baking, wrapped in parchment, and then unwrapped and greased with rum every 4–5 days during 3 weeks, which gives the fruit cake moisture and additional flavor.
Yes, you will have to be patient. Of course, you don't need to knead the dough for 3 weeks and stand by the oven every day – the kneading and baking takes a maximum of 1.5 hours. The rest is done by flavored alcohol (rum, whiskey, or whatever you choose) and time.
Can I eat an English Christmas fruit cake immediately after baking, without waiting 3 weeks?
Yes, of course, and it will taste great, but leave at least one piece of the fruitcake to lay for 20 days, and you will feel the difference. The flavor of the Christmas fruit cake will become much deeper, richer, even "expensive," as the customers for whom I have been baking these Christmas fruit cakes for the holidays for several years said.
Won't the fruitcakes spoil after 3 weeks of infusion?
No, they will not spoil. Sugar and alcohol preserve well and protect the fruitcakes from spoiling. Once, I even accidentally did an experiment: I put a piece of the fruit cake aside to eat it after the holidays and forgot about it. I found it 3 months later and, believe it or not, it was delicious.
So, the English Christmas fruit cake has huge advantages: it does not spoil quickly and therefore tolerates transportation. After three weeks of infusion, you can safely taste the fruit cakes, give them to friends and family, even send them by mail, as nothing will happen to the fruit cakes on the way, even on a long trip abroad, for example.
It's very convenient, and that's why an English fruit cake is a great gift idea for Christmas. Especially for those who have everything. They definitely don't have an English Christmas fruit cake 🙂
Filling for the English Christmas fruit cake recipe
I like to use raisins, dried apricots, dried cherries or cranberries, homemade candied orange peel or candied pineapple, pistachios and almonds for the filling in English Christmas fruitcakes. It turns out perfectly. But I've made Christmas fruitcakes many times with other mixes of candied fruits, nuts, and dried fruits, and they all work well in any ratio. The main thing is that there should be really a lot of filling. As much as the dough, or even more. So that it is not dough with fruit, but fruit with dough. This is the main secret!
Please don't skimp on the butter, use just tasty and flavorful unsalted butter. Margarine will not work well.
What alcohol is suitable for making an English Christmas fruit cake?
Spicy rum, whiskey, brandy, cognac. In general, any alcohol with a rich flavor. Definitely NOT suitable: wine, champagne, vermouth, beer, cider, vodka. This year (2023), I am baking English Christmas fruit cakes in the Azores, Portugal, so I am using their local honey liqueur, which is similar to rum but has a subtle honey note in the flavor.
Is it possible to make an English Christmas fruit cake without alcohol? I must say that alcohol here plays the role of an exclusively flavorful additive, a kind of "cherry on top" in the flavor palette of a Christmas fruitcake (I'm getting it all twisted, but I don't know how to say it more simply). If you have concerns about the alcohol content of Christmas fruit cakes, it (alcohol) evaporates during baking and then into the air during storage, as the parchment-wrapped fruitcakes are not hermetically sealed.
If you don't have any flavored alcohol at all, then soak the dried fruit in boiling water, soak the finished Christmas fruit cakes with melted butter, and then just wait 3 weeks without greasing them. These fruitcakes will also be delicious, but know that you have lost a lot by not adding rum)))
Ok, that's enough text, let's start cooking.
This amount of products makes 2 fruit cakes with a diameter of 16-18 cm and weighing approximately 600 g each.
Ingredients:
unsalted butter at room temperature
sugar
eggs
all-purpose flour
baking powder
ground cinnamon (I recommend this one, very flavorful)
ground nutmeg
salt
mixture of dried fruits, candied fruits and nuts (choose the ratio to your liking)
rum (whiskey or brandy will also work) for soaking dried fruits and fruitcakes
At least one day before baking (or even earlier), soak the dried fruit in a mixture of rum and water (1:1). The liquid should cover the fruit (if not, you can add a little more water or stir the mixture periodically). Cover it with a lid and put it out of sight in an inaccessible place.
As a result, the fruit will swell and have an incredible flavor.
There is no need to soak the candied fruit.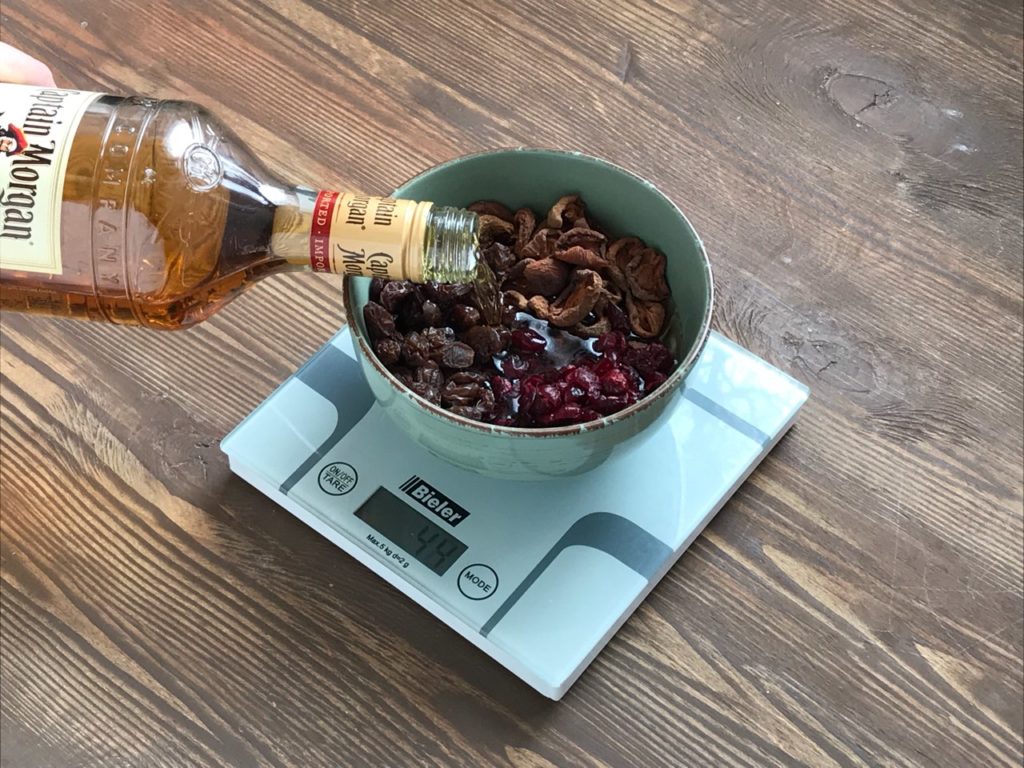 Chop the nuts (not too finely).
When the dried fruit is sufficiently soaked in rum, start making the fruit cake.
Preheat the oven to 160°C.
Beat soft butter and sugar with a mixer for about 5–10 minutes (the butter should lighten and become fluffy).
Add the eggs one at a time, beating the dough after each one.
In portions, add flour, baking powder, spices and salt, mix well.
Strain the dried fruits soaked in rum, dust them with extra flour and add them to the dough along with the candied fruit and nuts. Mix well.
Cover the baking dishes with parchment or grease with butter or oil.
Put the dough into tins, dividing it into equal portions (it is more proper to do this with a kitchen scale).
Bake the fruitcakes in a preheated oven for about 60 minutes at 160ºC (for larger dishes, it may take longer).
Starting at the 50th minute, you can start checking for doneness with a toothpick (stick it into the fruitcake and remove it; the toothpick should come out dry and clean).
Take the finished fruit cakes out of the oven and soak them with rum right in the tins (pour 2-3 tbsp of rum over each fruit cake). Cool in the tins.
Remove the completely cooled fruit cakes from the tins, wrap them in parchment and put them in a cool place for 3–4 weeks.
During this time, every 4–5 days, generously brush the English fruit cakes on all sides with a brush dipped in rum. Or you can spray rum on the fruit cakes using a spray bottle, this method is more convenient if you are preparing a lot of Christmas fruit cakes at once (for gifts, for example).
All this time, the fruit cakes will smell so good that it will blow everyone's mind. But be patient, I beg you, the waiting is definitely worth the result, just trust me!
Enjoy your meal!
What do you think about this English Christmas fruit cake recipe? Did you like it? I am happy to share my experience with you and waiting for your feedback!