So, decided: from now I will cook only this meringue roulade for all our summer family gatherings! It is fantastically delicious and just as simple: half an hour to cook and an hour to chill, although even without this the roulade will be wonderful.
In fact, this is the same Pavlova, only in a different form. But I like the roll even more. Crispy cracked golden crust, almond flakes… It looks so appetizing that it is almost impossible to withstand the time until the roulade gets ready to eat.
Generally! If you plan to treat the company with more than 3 people to this dessert, cook 2 rolls at once, you will not regret.
Lemon juice and corn starch are optional ingredients in the meringue, but each of them plays a role: lemon juice strengthens the foam (stabilizes) and reduces its sweetness, and starch makes the meringue more elastic. But if you make it without these two products, there will be nothing wrong, let this not stop you.
You can take any frosting that you like, even just whipped cream. But with mascarpone or cream cheese it turns out more interesting and more stable.
There should be a lot of berries in meringue roulade, they are very refreshing. You can use assorted berries if desired. And don't forget about almond flakes or nuts. It seems to be such a trifle, but they make the taste and texture of the dessert just amazing.
Ingredients:
For the meringue base
200 g egg whites
a pinch of salt
350 g sugar
2 tbsp lemon juice
15 g corn starch
almond flakes or any finely chopped nuts
For the filling
200 g mascarpone or cream cheese
50 g icing sugar
200 g cream 33%
400 g strawberries or assorted berries
Whip the whites with a pinch of salt at a low speed mixer until getting "beer foam", increase the speed to medium and gradually add all the sugar. Whip further at medium speed for about 10-20 minutes, until sugar is completely dissolved (it's important).
While the meringue is whipping, preheat the oven to 390 degrees F.
Reduce the speed to a minimum and add lemon juice, then corn starch. (If cooking without them, skip this step.) Once the mixture is smooth, turn off the mixer.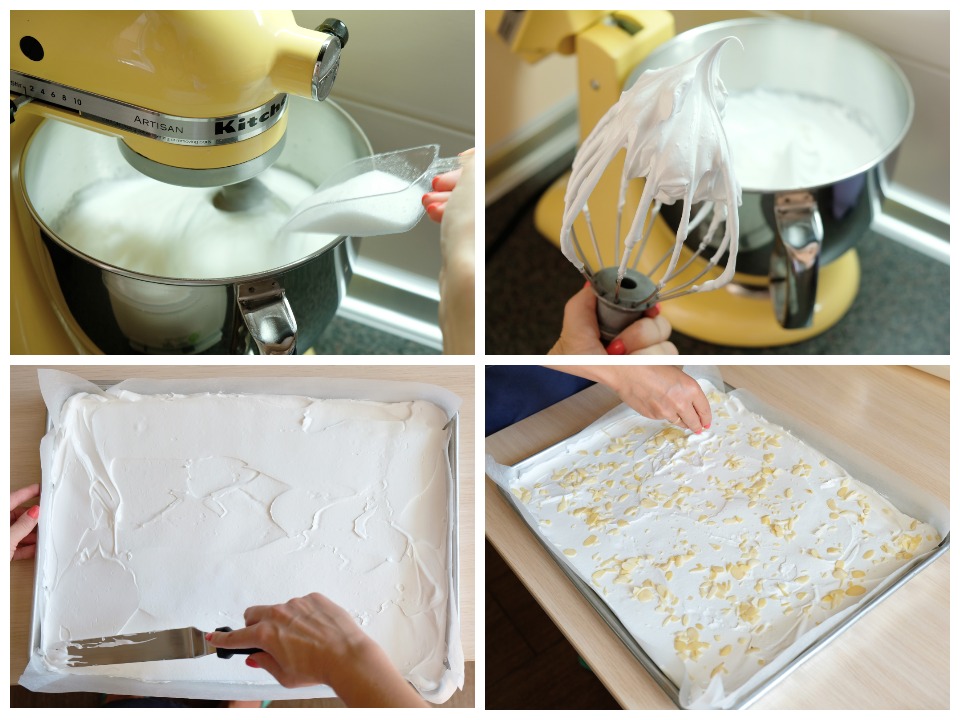 Put the meringue on a baking sheet covered with parchment, spread it with a spatula over the entire area of the baking sheet. Sprinkle with almond flakes or other chopped nuts on top.
Put the meringue in the oven and immediately lower the temperature to 320 degrees F. Bake for about 20 minutes until the meringue is golden.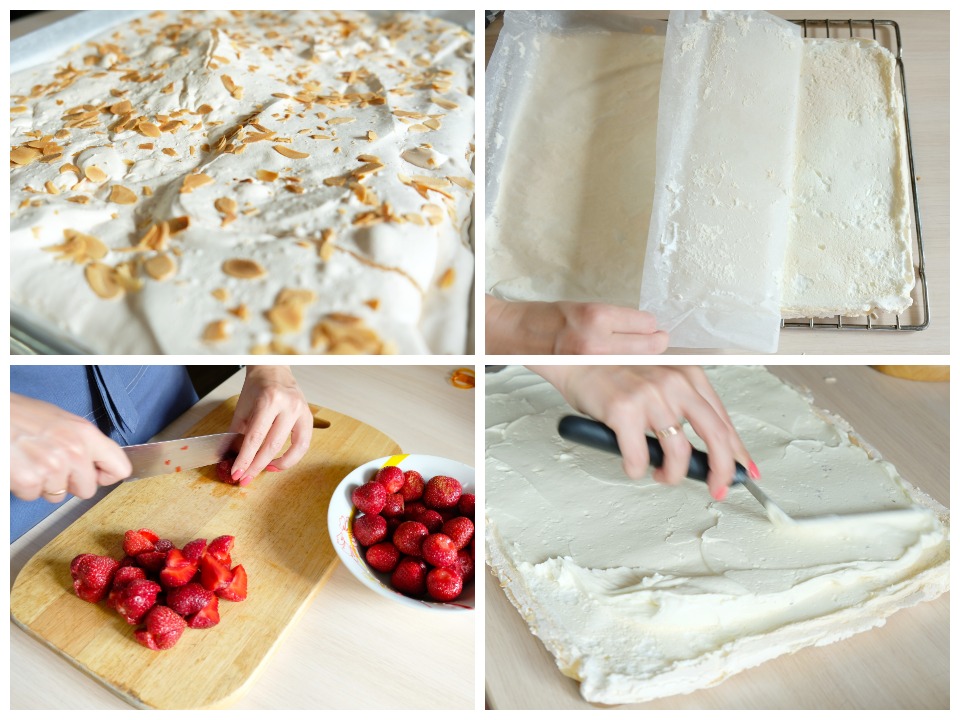 Remove the roll base from the oven, cover it with a sheet of parchment and a grate and turn this whole construction so that the cake lies upside down. Remove the hot pan and parchment. Cool the cake completely, this is important, otherwise frosting may lose structure on the warm cake and let the water run, then the roll will get wet.
While the roulade base is cooling, prepare the filling. If the berries are large, like my strawberries, chop them.
Mascarpone or cream cheese, icing sugar and cream 33% whip together for several minutes until smooth and thickened.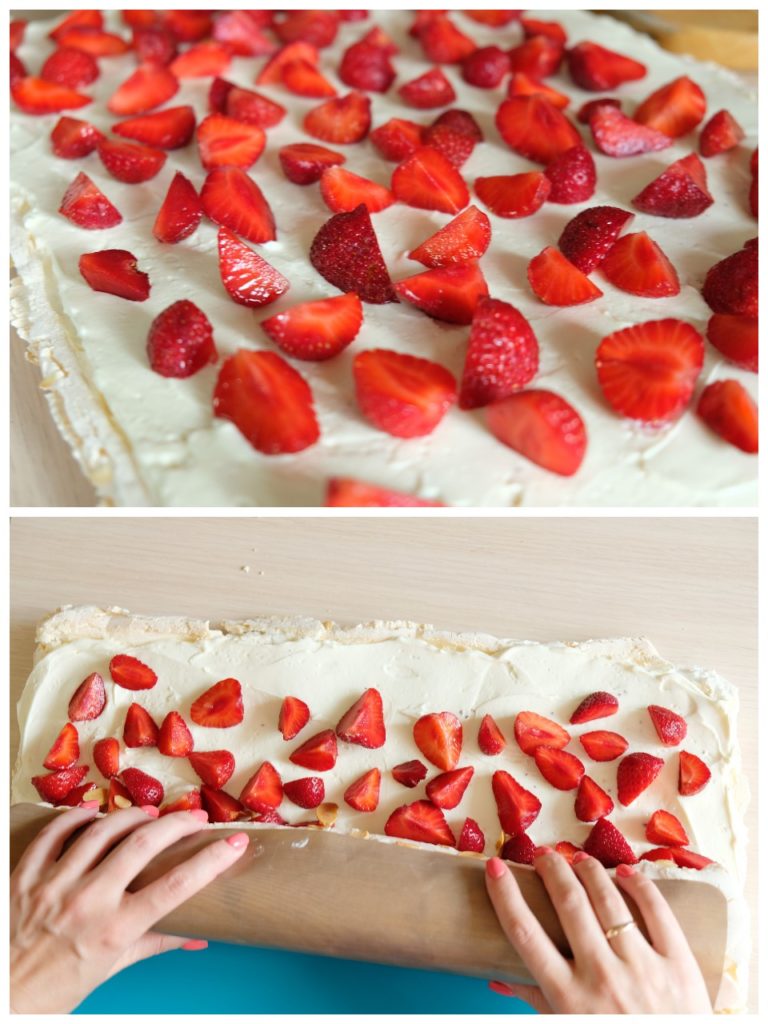 Spread the frosting over the cooled roll base, lay the berries on top. Gently roll the roulade and let it chill for 1-2 hours.
Keep the meringue roulade in the fridge for 2 days maximum (if this is realistic at all). It doesn't need a sealed container, otherwise the crust will stop crunching.
Can I cook the meringue roll with frozen berries? Yes, you should only defrost them first and get rid of moisture with paper towels, for example.
Why does meringue roll stick to parchment? Rather, not roll, but roll base. Two reasons: either the meringue is underbaked (then change the mode or baking time, they may differ in your oven) or bad quality parchment (change to a more "slippery", smooth one).